New Products Give the Kitchen & Bath Industry a Health-Conscious Face Lift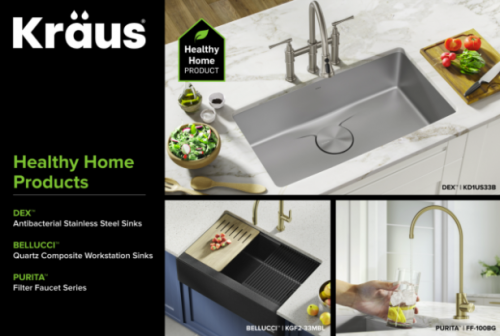 August 5, 2020 / / —
Port Washington, NY – In response to the continued changes in today's world, KRAUS has created a new initiative that embraces low-maintenance solutions to help customers create a cleaner and safer living environment.
"Since we are all spending more time at home and cleanliness is a top priority, this initiative is focused on limiting the spread of bacteria in high-traffic spaces where it matters most," notes Todd Alexander, Director of Product Development at Kraus USA. In an effort to educate consumers, Kraus has made it easier to identify products that help maintain a high level of hygiene by adding the Kraus Healthy Home Seal.
Current-day research shows that the #1 dirtiest place in any kitchen is the sink, which is often used for all sorts of messy jobs including disposing of raw or spoiled foods, washing hands, and cleaning an endless parade of dirty dishes. Kraus kicked off the Healthy Home Initiative by re-thinking the sink's role in relation to germs with the ultra-clean Dex™ Series of antibacterial stainless steel sinks. Made with T304Plus, a stainless steel blend enhanced with copper ions that have naturally antimicrobial qualities, Dex is one of the cleanest sinks available on the market today. Third-party testing found that T304Plus steel kills up to 99.9% of bacteria that touches the sink surface. DrainAssure™ technology further prevents bacterial growth by eliminating standing water in the sink with a unique waterway system that ensures complete drainage even when the sink is full of dishes. "By merging cutting-edge design with natural germ-fighting characteristics, Dex serves as an ultra-hygienic option that can improve health and cleanliness in the kitchen in a way that few other sinks can" stated Todd Alexander.
The Bellucci™ Quartz Composite Farmhouse Series is a strikingly modern luxury collection that rounds out the Healthy Home sink line-up. With bold contemporary silhouettes and workstation functionality, these sinks offer in-demand style while also helping to cut down on germs in the kitchen. The unique quartz composite blend is enriched with a special type of silver ion that repels bacteria, impeding their growth so that it's impossible for any germs to thrive on your sink's surface.
"Wherever possible, we have tried to give consumers multiple layers of defense against germs," said Kraus CEO Russell Levi. Bellucci is made using an advanced molding process for a higher level of cleanliness, creating an ultra-smooth hydro-repellent surface that causes water to bead up and roll off so that the sink stays dry after every use. The sink bottom is engineered with an optimal angle to further promote easy drainage and prevent pooling water that would otherwise provide a breeding ground for bacteria.
Kitchen sinks created using advanced technology are, however, just one aspect of the Healthy Home Initiative. Water filtration systems are a rapidly rising trend in kitchen design, with good reason – an in-home filter system allows individuals to obtain pure filtered water on demand, both for consumption and other kitchen uses such as cooking. To ensure easy access to filtered water, Kraus has introduced a new collection of standalone water filter faucets in a range of designs to address any homeowner's style preference. Compatible with all filtration systems on the market, these lead-free brass faucets connect to a range of under-counter units that purify water while keeping bulky filters out of sight. The high-arc spouts are perfect for filling reusable water bottles, saving hundreds of dollars on bottled water and helping contribute to a cleaner planet.
"These product offerings mark the start of a new age in home health… the focus now is to invest in innovations that can really make a difference in the health and cleanliness of your home," stated Russell Levi, expressing that this is merely the beginning for Kraus. "We will be developing more products that fit this initiative, and we hope that this is the start of a trend in what consumers can expect from the Kitchen and Bathroom industry."
About Kraus
Kraus USA has been transforming the kitchen and bathroom industry for over a decade, with a long history of manufacturing exceptional sinks, faucets, and accessories for the modern kitchen and bathroom. With an emphasis on delivering the highest possible value to consumers, the company strives to create fixtures that inspire and empower the people who use them, allowing them to transform their homes with intuitive designs and easy-to-install products that are built for a lifetime of use. Kraus sources best-in-class materials from around the globe and focuses heavily on optimizing production in order to provide consumers with high-end quality at competitive prices.
For more information on new products from Kraus, visit www.kraususa.com or to contact them directly call 1-800-775-0703 or email kpalat@kraususa.com. For any postal queries you can use this address here 12 Harbor Park Dr, Port Washington, NY 11050.
Contact Info:
Name: Katya Palat
Email: Send Email
Organization: Kraus USA
Address: 12 Harbor Park Dr, Port Washington, NY 11050
Phone: 1-800-775-0703
Website: http://www.kraususa.com
Source:
Release ID: 88971455